Archangel Uriel: "God is my light." Uriel is known as the angel of wisdom. He shines the light of God's truth into the darkness of confusion. People sometimes ask for Uriel's help to: seek God's will before making decisions, come up with fresh creative ideas, learn new information, solve problems, resolve conflicts, let go of destructive emotions such as anxiety and anger that can prevent them from discerning wisdom, and recognize dangerous situations so they can try to avoid them.
He can help us to acknowledge the Light within all people; find knowledge to help and to heal; interpret and decode our inner voice.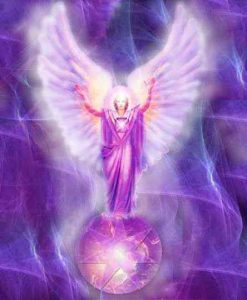 He is supposed to be the most sharp-sighted of all the angels. He is often represented with the flame of knowledge in his open hand, which mankind can draw upon for health and welfare. Uriel helps us understand why all things are as they are. He helps us trust in the Divine plan so that when things appear to be going wrong we can know that ultimately they are for the highest good and greatest joy.
Uriel helps us to find our inner light and to become as radiant as the sun when we express the fullness of the love and beauty within ourselves.