Your angels want you to be open for the unexpected… that is the first rule to attact a miracle.
Your angels ask you to welcome the 'unknown', they know how you fear things you do not know, new people, new situations, new opportunities. They remind you that is created by you. When you are in a state of FEAR and DOUBT – you are closed to the MIRACLES that are FOR YOU.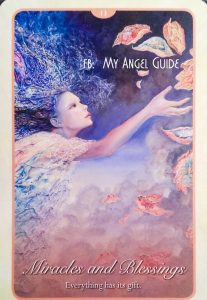 TODAY practice faith. Practice trusting, and say, "I don't know how God is going to do it, but he will do it." TODAY, even if it doesn't make sense, you do it. Even if going in that direction, or to that place, or talking to that person doesn't make sense, you simply 'do it'… the MIRACLE will unfold when you least expect it.
Your angels ask you to take a few minutes to seriously be thankful for what you already have – and take a moment and acknowledge the miracle of how these "things and people" came into your life.
TODAY, first and foremost, realize the MIRACLE of being here, in this moment, and experiencing the blessings of your challenges and your joy. Allow miracles to flow your way.