The Nine Choir of Angels have their key words or divine specialties. The Seraphim, Cherubim and Thrones are closest to the throne of God; they are of the purest "burning" love and light of the Divine. The Dominions, Virtues and Powers, administrate God's will, and are protectors, who bring balance and divine power- what we call miracles.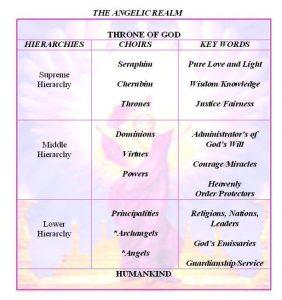 The Archangels and Angels are the mos
t well known and closest to mankind. Archangels are powerful healers and Angels are committed to lovingly guide and guard us.
Many people have said that getting to know and believing in Angels has made their life more enjoyable, they feel peaceful and confident, and have less fear of death and of the future.
Connecting with your Angels is very easy. The first thing you need to know is that they love you and want to support you in every way. Just remember to ask for what is it you want. We have our own free will – we make our life choices, and have our own beliefs. Whether you are a believer or non-believer, that does not matter, because Angels believe in you. Angels see your inner light, the divinity within you.
The Angels will not interfere with our free will, we need to ask them. Ask, meditate, pray, be grateful, and know that Angels are at our side every moment of the way.