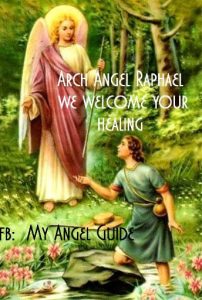 Arch Angel Raphael is with you TODAY, receive healing power.
He gives essential and complete healing of any kind of evil that torments you.  He is the return to the divine source.
Raphael intervenes to save our body, mind and heart; he soothes our suffering.  In extreme situations if we ask, he leads us to healers who can do something for us.
And, when we truly assume our own healing, he encourages the potential healer in ourselves, who knows intuitively what is best for our health and vitality.
Archangel Raphael has in his care the healing of the Earth and of its inhabitants.